Inchie Mosaics Video Lesson
Do you have unfinished art, pieces that never came to completion, and you can't bring yourself to finish or discard them? This lesson will show you how to repurpose discarded or unfinished art to create beautiful Inchie Mosaics.
Inchies are tiny pieces of art measuring only 1x1 square inchies, super fun to make!
Having trouble getting this lesson?
EU, UK or Russian Federation please visit my gumroad shop.
This video will contains Captions for the hearing-impaired
What are Inchies?
Inchies are tiny pieces of art measuring only 1 square inch, usually displayed in a group like a mosaic. Inchies can be made using any technique or media, on paper, fabrics, metal, anything!
Learn how to repurpose your discarded art to create ULTRA dimensional Inchies that look like actual tiles!
Learn how to create SUPER dimensional square tiles
In this lesson you will learn:
How to select discarded art based on color

How to create a Viewfinder to select tiny masterpieces

How to group Inchies together to form a cohesive mosaic

How to transform plain squares into 3-dimensional tiles through shading and coloring

How to create beautiful antiqued backgrounds with ornate borders

How to develop TWO different projects

A special bonus at the end to trigger your creativity!

And so many tips and tricks!
Give your discarded art new revitalized meaning, with beautiful borders and 3D effects
use different kinds of media in this super fun project
Supplies needed:
A stack of discarded or unfinished art, preferably over card stock

Hot-pressed watercolor paper tile 4x4 inches

A small pair of scissors, my favorite is the Olfa Precision

Watercolor paints and paintbrush, my favorites are the Windsor Newton in tubes

Light, medium and dark Gray markers. My favorites are Copics N0, N2 and N4, or you can use W0, W2, W4.

Graphite pencil for light shading

Brown Inking pen, my favorite is the brown Sakura Micron 01

Fineliners in different colors, my favorites are Marvy Le Pen fineliners

Colored pencils in matching colors. My favorite are Polychromos

White colored pencil, my favorite is the white Prismacolor

Optional: white pastel pencil, my favorite is the white Pitt Pastel

White gel pen. My favorite is Sakura White Gelly Roll 10.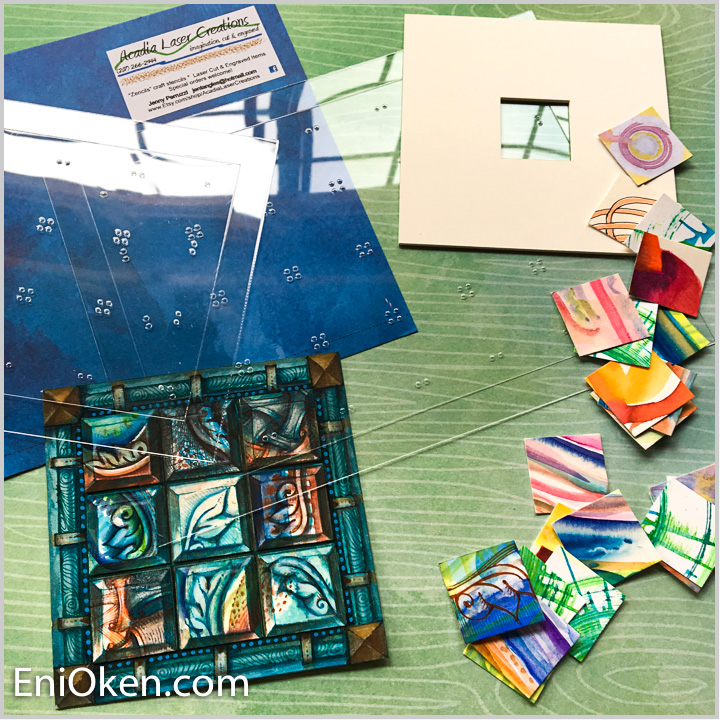 This set comes with 2 stencils which help you to place the inchies perfectly on the page, and a sturdy plastic viewfinder to help locate and mark the inchie masterpieces.
Sold through Acadia Laser Creations. Learn more
The results are so 3-dimensional, you'll think it was carved!
COMPLETE TWO PROJECTS, FROM BEGINNING TO END
USE WATERCOLORS TO CREATE DISTRESSED, ANTIQUED EFFECTS
Use your favorite tangle patterns to enhance these beautiful mosaics
A special bonus at the end of the lesson, showing you to adapt what you learned to other fun projects
This is what people said about this lesson:
Check out what people made with this lesson: