Distressed Tile Video
After the super fun we had with the Tangling over Distressed Tile ebook, it was about time I create a video: this video is a little over an hour and shows the ENTIRE PROCESS from beginning to end.
Having trouble getting this lesson?
EU, UK or Russian Federation try here.
In this lesson you will learn to:
Prepare a distressed tile and what to look for when creating tiles for tangling

Look and enhance the features of a distressed tile

Understand how to use different media including ink pens, watercolor brush markers, alcohol pens, permanent ink pens, gel pens

Understand how to combine and control color to create luminous shading

Create soft and sharp highlights, including "twinkling" highlights

Sooooo many tips and tricks!
List of Supplies
I use a variety of different brands, not hesitating to mix different types of media - with varied degrees of success! I've included links to Amazon or Blicks.com for you to find them easily (there is no additional cost to you). Some of these belong to sets and will not be found individually so feel free to adapt and change the colors or brands!
Do you feel like your distressed shading is missing something?
You'll understand to control color like never before.
FROM BEGINNING TO END, A FULL PROJECT
This is what people said about the video:
Additionally, if you want to get really into the details of the right supplies, the technique and the process, consider also getting my ebook: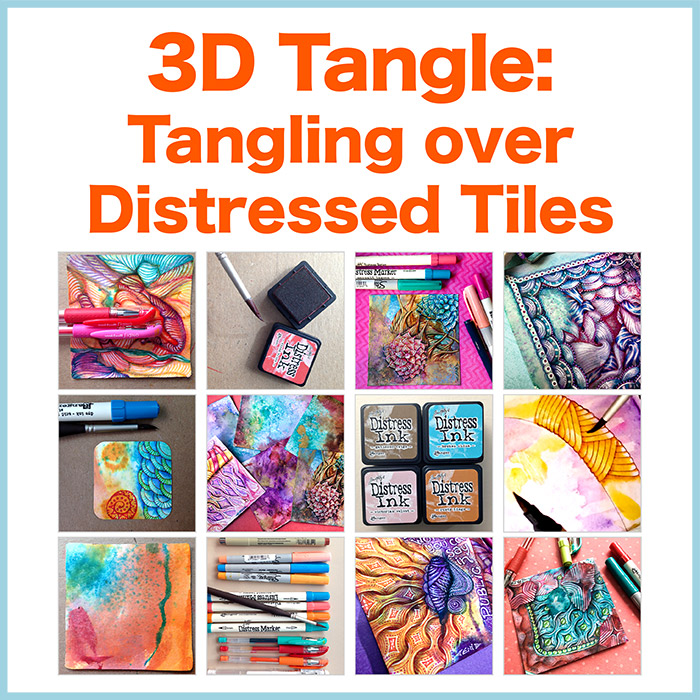 Tangling over Distressed Tiles PDF Ebook
Learn how to select the right media for tangling over distressed tiles, and the complete breakdown of my method. Learn more
Copyright 2017 Eni Oken
Other copyrights are of their respective owners.
Check out what other people did with this lesson: